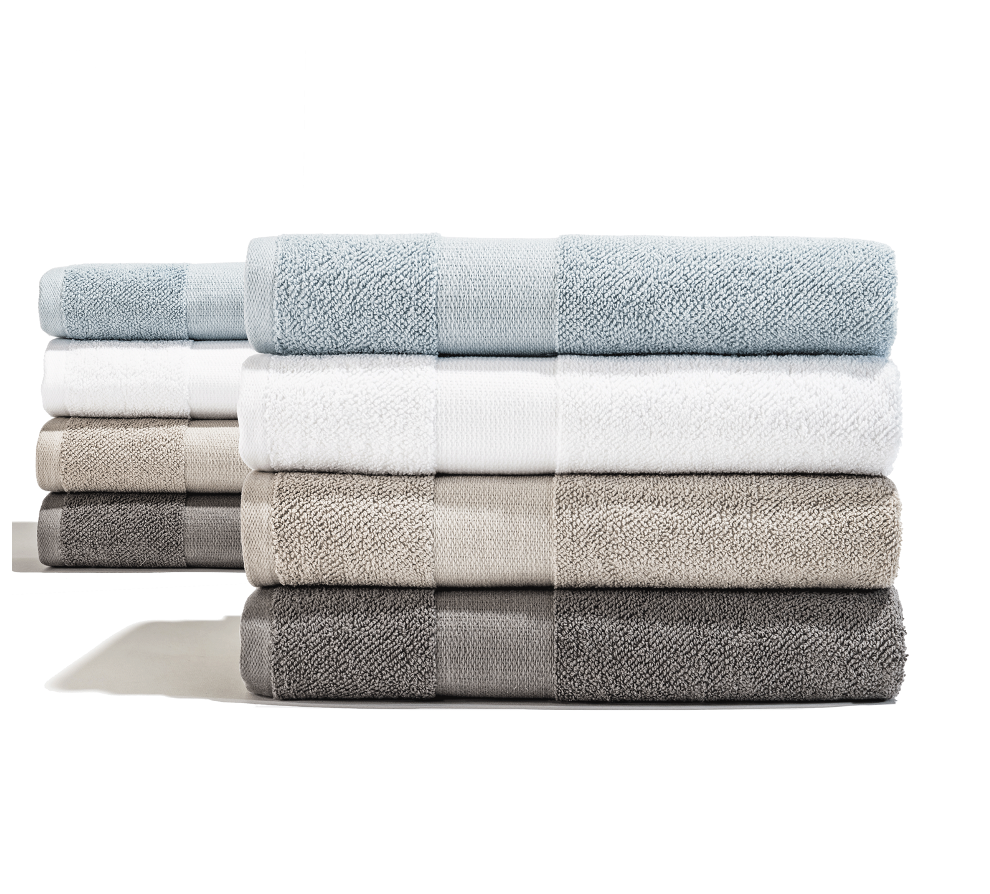 A Masterclass In Towels
There's a lot to know about this bath time essential


Share
Wrapping yourself in a soft towel after a shower or bath is one of life's little luxuries.
But the towel we know and love today is a world away from its first incarnation, which is believed to have originated in the north-western Turkish city of Bursa in the 17th century. Those who bathed in the city's natural hot springs used a flat woven piece of cotton called a peshtamal, often hand-embroidered, that was lightweight and absorbent.
Today's towels are usually fluffier, but absorbency remains high on the list of ideal attributes, along with fabric, weight and the all-important feel of the fabric – whether you love the thickness of pure cotton terry or a more ascetic honeycomb feel.
Material matters
The modern towel comes in a huge array of materials – cotton, linen, bamboo and hemp and ramie (another ancient natural fibre), among them.
Egyptian cotton is considered to be the world's finest, and is known as "white gold" for good reason. The Nile Delta's ultra-fertile soils and climactic conditions help the cotton plants grow slower for longer, producing particularly fine, long fibres that are smaller in diameter than other cottons. These create exceptionally smooth and soft yarns that are more breathable and absorbent. Today Egyptian cotton is grown in other parts of the world that emulate the Nile's conditions.
But Australian cotton runs a close second. Grown primarily in Queensland and New South Wales, with 90 per cent of operations being family owned, our cotton has the distinction of being both high in quality and one of the most water-efficient cotton industries on earth.
"Without doubt, Egyptian cotton is the best in the world, so you will expect to pay more due to its relative scarceness and for that premium quality," says Polite Society's Scott Cooke "But we also consider Australian-grown cotton a fabulous alternative ­– and, of course, we offer both."
The brand's Moss River Luxury range is made from Australian cotton, the Superfine and Honeycomb ranges from Egyptian cotton.
Then there are cotton/linen blends and pure linen. "Towels that are made from both cotton and linen are usually less thick – and therefore less heavy – than pure cotton towels. We use an 85 per cent cotton, 15 per cent linen blend in our Jacquard range and our new Loft line, and they're ultra-absorbent and have a lovely texture, too." 
"Pure linen towels are usually much lighter, more absorbent and they dry faster. But the price tag reflects the relative scarceness of linen as well as that premium quality."
Weight, there's more
A classic-sized bath towel measures around 70cm x 140cm, and a bath sheet 100cm x 160cm, with a little variation between brands.
Size might be a personal preference, but there's science behind weight. A towel's weight is measured in GSM, or grams per square metre. It's an industry standard that reflects not just the weight but the thickness and plushness of cotton and cotton/linen blend towels, and can range from 200gsm to 900gsm.
"With 100 per cent 'thick and thirsty' cotton towels, the better the quality, the heavier the weight. We would advise looking for a GSM between 550 and 800," Cooke says.
"For thinner cotton/linen blends, aim for a weight between 500gsm and 550 GSM."
Pure linen towels aren't measured in GSM, nor are honeycomb-style varieties. "Honeycomb towels are usually 100 per cent cotton, and they're lightweight, absorbent and fast drying. Our Paros and Ponte ranges are both honeycomb – they're ideal for summer use because of their lightness."
Light vs heavy
There's also a towel's heft.
"Choosing a lighter or heavier towel really comes down to personal preference," Cooke says.
"There are pros and cons to both. Lighter towels obviously dry faster but heavier towels are usually more absorbent. My advice would be to try both and then decide
A word on washing
Washing new towels at least twice before using them may seem an unnecessary addition to your laundry load, but it's vital to encourage absorbency.
"Pre-washing 'sets' the weave and pulls the threads together," says Cooke. "It also washes out any finishes used in the weaving process and removes lint produced during manufacturing." 
"People are often surprised by the amount of lint shed from a towel in the first few washes. But lint is an inevitable result of towel production and occurs in all terry towels even of the highest quality."
That said, there are a few measures you can take to ensure a soft, lint-free towel. Using a clothes dryer gives a softer finish and removes the lint – and it's important to avoid over-filling the dryer during those first few washes to ensure lint doesn't stick around.