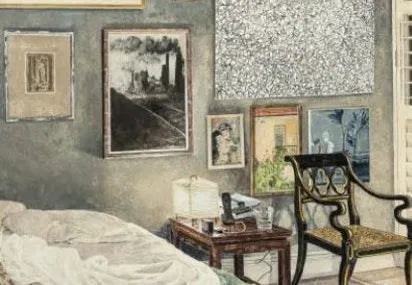 Polite Society's October Social Diary
From a landmark retrospective at the Australian National Gallery Gallery to a New Zealand chanteuse at Melbourne's Recital Hall, these are our hand-picked events to mark in your diary this month.
Share
A new venture from the team behind Loulou's in Lavender Bay, The Charles Grand Brasserie & Bar brings an old-world elegance to Sydney's CBD. The brasserie, cafe and bar à vin specialises in French favourites (from flaky croissants in the morning through to whole dry-aged roasted and pressed duck later in the day), and boasts a 600+ wine list. Opens October 21.
If you haven't already booked tickets for the Melbourne performances of Phantom of the Opera, you may want to consider it… Extra dates have been added to this production of Andrew Lloyd Webber's classic, which sold out in record time in Sydney. Despite recent high-level changes at Opera Australia, the 65-strong cast and orchestra deliver a stunning show (and the music is as captivating as ever). October 30 – 2023.  
Ever wondered what goes on in a teacher's staff room? Sydney Opera House's new comedy, Chalkface, may enlighten you. Written by Angela Betzien (The Hanging, ABC's Total Control) and directed by STC Resident Director Jessica Arthur, the show is a chaotic and entertaining love letter to educators, set within the confines of a pitch-perfectly styled teachers' lounge. Starring Catherine McClements as jaded Pat and Stephanie Somerville as newly graduated Anna, Chalkface is playing at the Opera House's Drama Theatre until October 29.
Meanwhile, over in Canberra, the National Gallery is hosting a large-scale retrospective of Cressida Campbell, featuring over 140 works. Yes, you've probably read about it already, but this is just a gentle reminder of Campbell's significance to Australian contemporary art – and the works themselves, with their detailed rendering of domestic intimacy, are beautiful. Open at National Gallery until February 19, 2023.
 New Zealand singer-songwriter Aldous Harding will perform two intimate live shows at the Melbourne Recital Hall on Thursday, October 20 and Friday, October 21. Celebrated as one of the most unusual and captivating live performers on the touring circuit, the shows follow the release of her fourth studio album Warm Chris, and feature support from Welsh multi-instrumentalist, H. Hawkline. 
It's a bumper month for books as publishers gear up for the festive season. On our bedside table, we have Elizabeth Strout's latest Lucy Barton novel, Lucy By The Sea, the follow-up to the Booker-nominated Oh William!, which sees Lucy and her ex-husband hunkering down in Maine for the pandemic. Geena Davis' memoir, Dying of Politeness: A Memoir (out October 19), is a rollicking read (she's been described as "unexpected, thoughtful, funny, clever, magnificently odd"), and we're waiting impatiently for the arrival in stores next month of Amy Thunig's memoir, Tell Me Again – we've had a sneak peek and it's utterly compelling
Image credit: Cressida Campbell, 'Bedroom Nocturne', National Gallery of Australia.