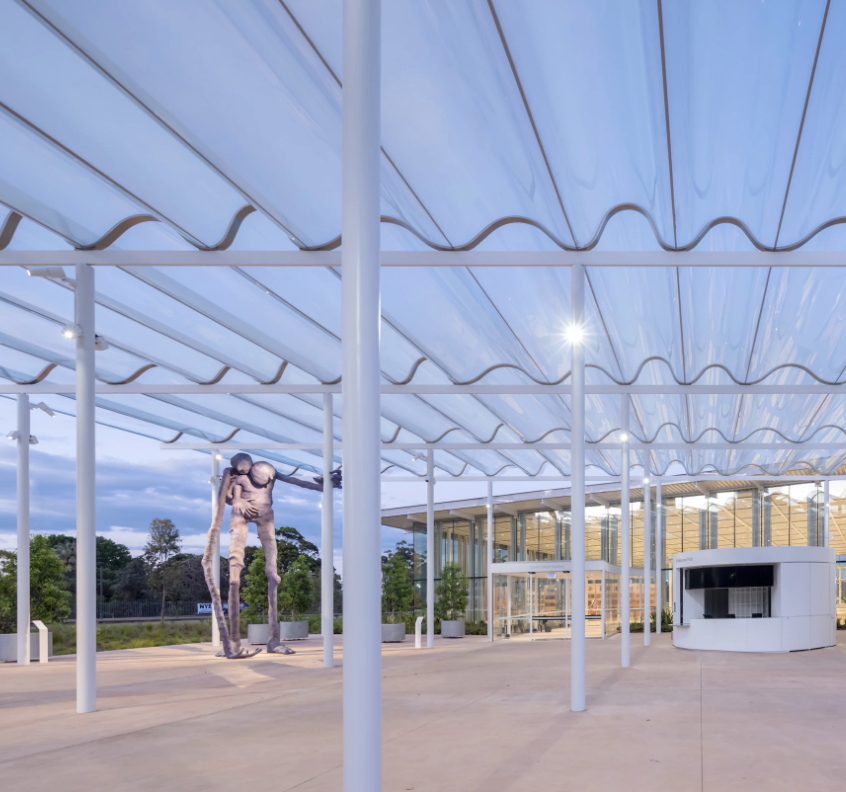 Polite Society's December Social Diary
Island opera and a brand-new gallery top our list for this month's cultural happenings.
Share
For art-loving Sydneysiders, the opening of the reimagined Art Gallery of New South Wales is an early Christmas present. Designed by award-winning Japanese architects SANAA, the new South Building comprises a series of light-filled pavilions that cascade down to the harbour, while the original gallery (now known as the North Building) has had a face-lift, too. Expect site-specific artwork by Australian and international artists (we love Yayoi Kusuma's psychedelic flowers), incredible indigenous art and some seriously eerie installations in the subterranean Tank. 
It's opera, but not as you know it. From now until December 18, Sydney's Cockatoo Island is playing host to one of the arts' most renowned femme fatales, Carmen. Composed in the 19th century by Georges Bizet, this Liesel Badorrek-directed production receives a rugged update with leather jackets, hip-hop-inspired dancing, and motorcycle stunts, against a backdrop of Cockatoo Island's suitably gritty industrial setting. A night on the harbour never felt quite so dramatic.
The Tony and Olivier Award winning new musical, Come From Away, is back on stage at Sydney's Theatre Royal throughout December. Based on the incredible true story of 7,000 passengers stranded in the small, coastal Canadian town of Newfoundland in the wake of the September 11 attacks, the musical "takes you to a place you never want to leave!" (Newsweek) and is a distillation of hundreds of hours of interviews with both visiting passengers and the locals who welcomed them.
For those eager to immerse themselves in Australia's natural landscape (but, say, lacking the annual leave requirements), dive into Australian Geographic: Our Country Immersive Experience (Our Country), hosted during December at the ICC Sydney Exhibition Centre. Described as a "moving meditation on Australia's epic landscape", the multi-sensory exhibition depicts field footage of every national ecosystem (edited from more than 100,000 hours in the field) on large-format screens, from snowy mountain ranges to lush rainforests. Recorded natural sound is artfully blended with music built collaboratively by Indigenous and non-Indigenous composers, sound designers and performers.
Live music more your speed? On December 2, the incomparable musician, singer-songwriter, published author and actor, Nick Cave, will take centre stage with composer Warren Ellis at Melbourne's Palais Theatre in support of the duo's widely acclaimed album, Carnage. Famous for his melancholic, often macabre, lyrics and cinematic soundscapes, the 'Black Duke' of alternative Australian music remains one of the most respected figures in contemporary rock. 
Also in Sydney, Melbourne, Adelaide, Brisbane and Perth, the return of the city's Moonlight Cinema marks the beginning of summer. Catch cult classic films such as Grease, The Holiday and Die Hard alongside new blockbuster releases including Elvis, Don't Worry Darling and Tickets to Paradise. Hosted on the Central Lawn at Royal Botanic Gardens Melbourne, enjoy a night under the stars, with your favourite Hollywood stars – and a cosy blanket or two. From December 1.